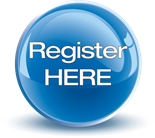 Now in its 6th year, The River Run - Geelong is one of the regions most popular fun runs and with good reason as the course is a beautiful path along the Barwon River with single lap 5km and 10km courses. The course is flat and fast, where everyone is welcome from the elite athlete to walkers. We aim to provide a fun and friendly atmosphere, where everyone feels welcome.
COURSE DETAILS
Visit the Maps page to see where the course takes you and some phots taken out on course to give you an idea of what you are in for.
CAN I WALK?
Yes, we have many participants who walk the 5km course, however, the 10km course is for those who will jog the majority of the course (complete the course in under 1 hr 30min)
SUPPORTING RIVER'S GIFT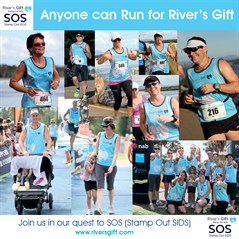 As is previous years the RIVER RUN will be once again supporting the fantastic work of the River's Gift charity in their efforts to Stamp Out SID's (SOS). If you can, please make and additional donation when registering, purchase some of their fantastic clothing while registering or set up an everyday hero account and get friends and family to sponsor you. It only takes a couple of minutes to set up but can make a huge difference.
Check out the fundraising page of this website for more information on the great work of River's Gift.
GET YOUR OWN PERSONALISED RACE BIB!  
Personalised bibs will be available to all participants that register before the January 25. Get your name or message on your bib as a great momento of the day.
EVERY FINISHER GETS A FINISHERS MEDAL
This year all finishers will recieve a fantastic finishers medal as they cross the finish line at each event. Each events medal will be different and unique to the event.
PRE EVENT INFO KIT EMAIL
All participants will recieve an email on Thursday February 22 outlining all the finer details of the days proceedings. It will include such things as maps on how to get to the venue, event day schedules, parking, etc,etc.
BIB COLLECTION
There will be three opportunities to collect your bibs at each event. Further details will be available closer to the event on each of the individual race pages of this website.
AGE GROUPS
Junior (6-17yrs), 18-29 yrs, 30-39 yrs, 40-49 yrs, 50 - 59 yrs, 60+ yrs
Trophies will be awarded to winners in each category in both the 10km and 5km events at each event. 
Overall winners of the 5km and 10km events will recieve a trophy at each event
The Presentation Ceremony will take place at approximately 9:30am at each event.
DRINKS AND FIRST AID
Safety is the priority of the River Run. There will be 4- 5 drink stations positioned on course at approximately 2km intervals at each event. 
First Aid personnel will be both at the finish line and for added safety there will be mobile first aid personnel on bicycles out on the course.
BAG STORAGE
There will be a secure baggage holding area at the event site. The baggage holding area will be open from 7:30am and will close at 10:00am. PLEASE ENSURE THERE ARE NO VALUABLE ITEMS LEFT AT THE BAGGAGE HOLDING AREA.
PREPARATION AND TRAINING
We recommend that participants who are not regular runners and those who have not undergone a recent medical check-up, particularly older participants, seek a medical check up, before taking part in this years River Run.
PLEASE ENSURE YOU ARE WELL HYDRATED PRIOR TO TAKING ON THE RUN AND THAT YOU ARE CAPABLE OF FINISHING THE EVENT IN A SAFE MANNER.
EXTREME HEAT POLICY
Please note that in the event of excessive heat on the morning of the event, safety measures will be taken in accordance with the guidelines of Sports Medicine Australia to ensure the safety of all participants. This may result in the shortening of the 10km run (only if conditions are extreme).