All information on this site will be updated closer to the event date.
Event Date:          
Sunday February 27, 2022

Distances:             
10km Run & 5km Run/Walk
Start Times:         
10km Run          8:00am
5km Run/Walk   8:10am
Start Finish Area  
Barwon Valley Park, Barrabool Rd Belmont.
Now in its 9th year, The River Run - Geelong is one of the regions most popular fun runs and with good reason, as the course takes participants along the beautiful Barwon River path system with single lap 5km and 10km courses. The course is flat and fast, where everyone is welcome from the elite athlete to walkers and pram pushers. We aim to provide a fun and friendly atmosphere, where everyone feels welcome. 
COURSE DETAILS

Visit the Maps page to see where the course takes you and some photos taken out on course to give you an idea of why this event is so popular.
EVERY FINISHER GETS A FINISHERS MEDAL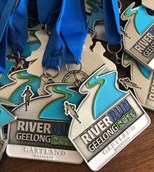 All finishers will recieve a fantastic finishers medal as they cross the finish line. A great momento of your fantastic effort. (2019 medal pictured)
CAN I WALK?
Yes, we have many participants who walk the 5km course, however, the 10km course is for those who will jog the majority of the course (complete the course in under 1 hr 30min)
SUPPORTING RIVER'S GIFT
As in previous years, the RIVER RUN will continue to support the fantastic work of River's Gift and their pursuits of Stamping Out SIDS (Sudden Infant Death Syndrome). If you can, please consider making a donation to River's Gift when registering, or purchase some of their fantastic merchandise. We encourage you to also set up a fundraising page, to do your bit in supporting the incredible work that River's Gift are doing! It only takes a couple of minutes to set up but can make a huge difference.
Visit https://www.givenow.com.au/riverrun2020 to start fundraising today.
GET YOUR OWN PERSONALISED RACE BIB!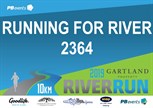 Personalised bibs will be available to all participants that register before the February 1. Get your name or message on your bib as a great momento of the day.
EARLY ENTRY PRIZE DRAWS
Get your entry in early an go into the draw for some fantastic Prizes. All you need to do is be registered before the dates below and you are in the draw. The earlier you enter, the more prize draws you go into!
Draw dates will be released closer to event date
RACE BIB COLLECTION (also River's Gift Merchandise collection point)
Sunday February 27 - 7:00am-7:50am
Registration Marquee - Barwon Valley Park - Barabool Rd, Belmont
AGE GROUPS
Junior (6-17yrs), 18-29 yrs, 30-39 yrs, 40-49 yrs, 50 - 59 yrs, 60+ yrs
There will be an additional age group in the 5km event for kids 6-12 years old.
Special Gold, Solver and Bronze medals will be awarded in each age group category in both the 10km and 5km events.
Overall winners of the 5km and 10km events will recieve a trophy.
Trophies will be awarded to Team event winners (male, female and mixed) at both 5k & 10k.
The Presentation Ceremony will take place at approximately 9:30am at each event.
DRINKS AND FIRST AID
Safety is the priority of the River Run. There will be 4- 5 drink stations positioned on course at approximately 2km intervals. See course map for locations.
First Aid personnel will be both at the finish line and for added safety there will be mobile first aid personnel on bicycles out on the course.
BAG STORAGE
There will be a secure baggage holding area at the event site. The baggage holding area will be open from 7:30am and will close at 10:00am. PLEASE ENSURE THERE ARE NO VALUABLE ITEMS LEFT AT THE BAGGAGE HOLDING AREA.
PREPARATION AND TRAINING
We recommend that participants who are not regular runners and those who have not undergone a recent medical check-up, particularly older participants, seek a medical check up, before taking part in this years River Run.
PLEASE ENSURE YOU ARE WELL HYDRATED PRIOR TO TAKING ON THE RUN AND THAT YOU ARE CAPABLE OF FINISHING THE EVENT IN A SAFE MANNER.
INSURANCE
Participants should note that Public Liability insurance exists for this event, however, it does not cover individual medical and rescue costs. This cost is the responsibility of each individual participant. Therefore it is highly recommended that you Ambulance cover is up to date.
EXTREME HEAT POLICY
Please note that in the event of excessive heat on the morning of the event, safety measures will be taken in accordance with the guidelines of Sports Medicine Australia to ensure the safety of all participants. This may result in the shortening of the 10km run (only if conditions are extreme).