EVENT DATE:           Sunday June 3 (still to be confirmed)
DISTANCES:              10km, 7km and the all new 4.5km
START TIMES:          4.5km - 9:00am
                                      10km & 7km - 9:05am
Venue:               You Yangs Regional Park (main Entrance)
ARE THERE HUGE HILLS?
There are some undulations to challenge you in the 7km and 10km courses, but the course does not go any higher that the turntable car park. 
The 4.5km course is quite flat and is designed for beginners to trail runner. A flat course on wide service roads through the picturesque bushland.
ARE THE COURSES SAFE?
Although you may feel like you are in the middle of the bush for most of the courses, at no time are you more than 100m from vehicle access. We will have many marshals out on course as well as directional arrows at all changes in direction. There will also be mobile first aid units on course as well as at the finsh line.
CAN I WALK?
Walkers are welcome to take part in the shorter course events, however the longer course events are for those who will jog or run the majority of the course.
The Associated DIRTY DUATHLON
On the same date and at the same location the Dirty Duathlon (Run/Mountain Bike/Run will take place. For more details on this great new event click here.
WHERE IS THE YOU YANGS REGIONAL PARK?
The You Yangs regional Park is 40 minutes west of the Westgate Bridge and 25 minutes north of central Geelong.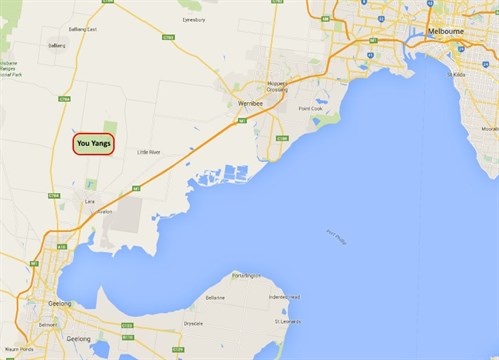 BAG STORAGE
There will be a secure baggage holding area at the event site. The baggage holding area will be open from 8:15am until 10 minutes after the presentation ceremony. PLEASE ENSURE THERE ARE NO VALUABLE ITEMS LEFT AT THE BAGGAGE HOLDING AREA.
DRINK STATIONS
Drink stations will be located at approximately 2.5km intervals on each course. Check the course map on each event page for drink station locations.
PARKING