A DECISION ON IF THIS EVENT WILL TAKE PLACE IN 2022 WILL BE MADE IN MAY/JUNE THIS YEAR, WITH A LIKELY EVENT DATE (IF IT CAN PROCEED) OF OCTOBER/NOVEMBER.
EVENT DATE:   
Short Course - 4km Run / 17km Mountain Bike Ride (approx) / 4km Run 
Long Course -  8km Run / 33km Mountain Bike Ride (approx) / 6km Run.
Both distances can be completed individually or part of a 2 person team
START TIMES:     

Long Course (Individual and relay)         8:50am

Short Course (Individual and relay)        9:00am
VENUE:    You Yangs Regional Park.  (Event site is just inside the main entrance gate off Branch Rd)

The You Yangs Dirty Duathlon brings off road fun and fitness to the You Yangs Regional Park. This event (in its 5th year) is perfect for all levels of mutlisport athlete from the beginner to those wanting to test their skills and speed over a great course. Every finisher receives a medal!.
RELAY OPTION 
Get a team of two together and complete the course as part of a relay team. One team member completes both the first and second run and the the second team member completes the bike leg. 
WHAT BIKE CAN I USE?
Mountain bikes are the only bikes allowed on course. This is to ensure the safety of all participants and ensure a fair event for all competitors.
CUT OFF TIMES
The following cut off times will apply:
Participants must complete run 1 by 10:00am
Participants must have completed the bike leg before 12:00 noon
Participants must complete the course before 1:00pm
RACE PACK COLLECTION
Race Packs, including race bib, MTB plates, timing chips, pins, cable ties and instruction sheets will not be posted out. They will be available for collection from 7:30am on race morning.
EVERY FINISHER RECEIVES A MEDAL
As you cross the finish line at the event you will receive a finishers medal. Relay teams will receive 2 medals (one for each member)
TIMING
This event will be electronically chip timed. The following timing points will be recorded:
Entry to transition after run 1
Exit of Transition after MTB (Bike leg includes both transitions)
Finish Line
All results will be available within 1 hour of the presentation ceremony.
PRESENTATION CEREMONIES
Short course presentation will take place at approximately 11:00am
Long Course presentations well take place at approximatley 12:00
AGE GROUPS
15 - 18 years, 19-29 years, 30-39 years, 40-49 years, 50-59 years, 60+ years
Trophies will be awarded to all individual age group category winners.
Trophies will be awarded to the overall male and female winners in both the long course and the short course events.
Trophies will be awarded to the overall winners of the relay (one only per distance).
EVENT RULES
The objective of this event is not to weigh you down with rules and regulations, however, to ensure your safety and the safety of other participants, there are some rules that must be followed. CLICK THE EVENT RULES TAB ABOVE to view event rules and regulations.
WHERE IS THE YOU YANGS REGIONAL PARK?
The You Yangs are located just 40 minutes drive from the Westegate Bridge and 20 minutes from Central Geelong
All events will take place at the same event site that is located just inside the main entrance gate on Branches Road.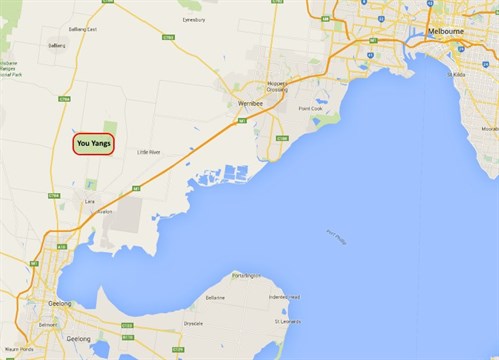 ON COURSE SUPPORT
There will be course marshals out on course at all major intersections and many course directional arrows and signs to ensure that you remain on the correct course. Although you may feel in the middle of the bush, you are rarely more than 50m from vehicle access. 
FIRST AID
We hope that this service is not required, however we will have St Johns First Aid staff both at the finish line and a mobile unit out on MTB course to ensure participant safety.
TRANISTION AREA
The transition area will open at 8:15am.  A Helmet and bike safety check will take place on entering the transition. Only participants are allowed in the Transition area. No Bags are to be kept in the Transition area.
BAG STORAGE
Bag storage facilities will be available between 8:30am and 11:00am. This bag storage area will be staffed at all times (with PB events staff only within the fenced area), however, please do not leave any valuable in your bags.
DRINK STATIONS
There will be one drink station on each of the two run courses. Both drink stations will be at approximately half way through the run leg.
PARKING
Participants are to park on Branches Road and in the You Yangs allocated car parks. Please do not park on the You Yangs Entrance road or in bush areas not allocated to parking. Failure to follow these rules will result in the event not receiving Parks Victoria Permit approval in the future. 
REFUNDS
No refunds will be issued for Race entries. In the event that you cannot participate, your entry may be transferred to a friend if you email justin@pbevents.com.au at least 3 weeks prior to the event. It is vital that transfers are communicated to PB Events. We must know who is participating.