Sunday April 24, 2022 
Distances:         
21.1km, 10km Run, 5.5km Run, 
The Wyndham City Werribee Mansion Run starts and finishes on the lawns of the magnificent Werribee Mansion and takes participants through the spectacular grounds of the Mansion and Werribee River Park region. The event caters for all levels of fitness and all members of the family with a two lap half marathon and 10km runs for the experiences runner, 5.5km Run/walk event for the less experienced and a 1.2km kids dash.
As far as a spectacular venue and picturesque course goes, this event can not be beaten.
Field Limit
The Field limit for the 2022 event will be 2000 participants.
Start Times:   
Please note that start times may be altered slightly closer to event day in line with Governemnt regulations.  
8:30am - Half marathon (400)       
8:45am - 10km (400)
8:50am - 10km (400)            
8:55am - 5km (250)
9:00am - 5km (250)
9:05am - 5km (250)
10:00am - Kids dash
10:30am - Presentation Ceremony
Venue:  Werribe Park Mansion, Werribee South
WHAT DOES THE COURSE LOOK LIKE?
Check out the maps page of this website to see not only the course map but also some images taken out on the course and a couple of short videos of the course.
Please Note: There is a section of approximately 30 stairs on the course, therefore, the course is not suitable for prams or wheelchairs.
MEDALS FOR ALL FINISHERS!!
All finishers receive a finishers medal as they cross the finish line. We know that it is as much of an accompanishment for some to complete 5.5km as it is for some to finish a half marathon, so everyone will get a great momento of the day.
EVENT MERCHANDISE
Good quality T-Shirts ($35) and caps ($20) are available for purchase through the registration process and on race day (if stocks last). CLICK HERE to view size charts. Items can be collected at bib collection pre event or on race day or a postage option is available (postage will begin on February 1).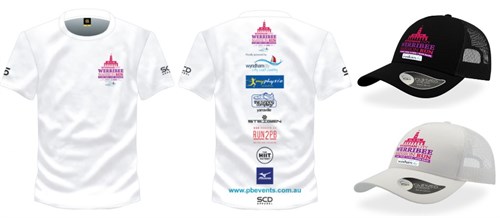 FREE Marquee Stalls for your business on Event Day!
To help the health and Fitness industry get back on its feet we are offering FREE marquee stalls to businesses or groups on Race day. We will provide a 3mx3m marquee and signage on the front. You just book a spot, then turn up on the day and promote your business or group. Email justin@pbevents.com.au for detials and to book. Limited spots are available.
INDIVIDUAL CERTIFICATES
You can print off your own personalised Event certificate after the event. These certificates will have your name and your official finishing time on them, as well as your overall and category finishing position.
PERSONALISED RACE BIBS
Personalised race bibs with your name, nickname or message will be available for all participants who register before March 20, 2022). Strict cut off dates apply for this feature. Just a hint The less text you have, the larger the letters will be.
KIDS DASH EVENT
The kids dash run will take place at 9:50am. To find out more click on the KIDS DASH tab at the top of this page.
PRESENTATION CEREMONY
Presentation ceremony will take place at approximately 10:20am
EARLY ENTRY PRIZE DRAWS
Three early entry prize draws will take place. All you need to do is have entered by the dates below to be in each draw. A pair of Mizuno Runnners from the Running Company Yarraville will be up for grabs in each draw.
March 9, April 6, April 13.
SUPPORTING THE LEUKAEMIA FOUNDATION
This years event will support the Leukemia foundation in their fantastic efforts to support
people and families in need. Please make an additional donation through the registration process or set up a fundraising page for this event. Every cent helps! 
If you would like to do some additional fundraising for the Leukaemia Foundation, go to the Get Your Blood Pumping website http://getyourbloodpumping.com/ to set up your own fundraising page and fundraise this way.
RACE BIB COLLECTION 
This year you have the option of having your race bibs posted to you prior to the event. A fee of $6.50 applies to this option. Bibs will be posted on Friday April 8, 2022. Option only available to those who register before April 3, 2022.
Race Bibs also will be available for collection at the following times and locations. Please note that bibs are NOT at these locations at any other time than that shown below.
Thursday April 21 - 5:00pm - 7:00pm 
To be confirmed
Sunday May 2 (Race Day) - 7:30am - race start time
Registration Marquee - Werribee Mansion Lawn
EVENT PHOTOS
Our proffessional photographers will be both on course and at the finish line snapping away. You will be able to view all photo on the PB Events Facebook page after the event. We usually have over 250 images up by the monday of the event. Details on how to purchase these high quality images will be emailed post event.
AGE GROUPS
Kids (6-12, 5.5km only),Junior (13-17yrs), 18-29 yrs, 30-39 yrs, 40-49yrs, 50-59yrs, 60+ yrs
Medals will be awarded to winners and place getters in each category in the 21.1km, 10km and 5.5km events. 
Trophies will be awarded to overall winners at each distance.
EVENT TIMING
All events will be electronically chip timed with timing mats at both the start and finish to guarentee accurate race results and times.

HALF MARATHON CUT OFF TIMES
Marshals and the race team will cease support progressively at the following times:
| | | |
| --- | --- | --- |
| 12.1km         | 1:40hrs      | (9:55am) |
| 15km | 2:10hrs | (10:25am) |
| 21.1km | 3:30am | (11:30am) |
BAG STORAGE
A storage facility will be available on race day for NON VALUABLE items. This area will be staffed, however, please do not leave valuable items in the bag stages area.
DRINK STATIONS
There will be drink stations out on course at approximately every 2km (see course map for details). You will also recieve a bottle of water at the finish line.
PRAMS and WHEELCHAIRS
The course has a section of stairs, therefore, unfortunately, the course is not suitable for prams or wheelchairs.
WALKERS
The 5.5km events are open to walkers. The Half Marathon and 10km event is for those who will run/jog all or most of the course.
EVENT VILLAGE
The arrangements for the event village will be made at a date closer to the event.
PARKING
Secure off road parking is available on land at the entrance to Werribee Mansion. Marshals will be available to ensure parking is orderly and safe. Specific Parking information will be made available to entrants through the pre event information email sent in the days prior to the event 

INSURANCE
Participants should note that Public Liability insurance exists for this event, however, it does no cover individual medical and rescue costs. This cost is the responsibility of each individual participant. Therefore it is highly recommended that you Ambulance cover is up to date.
PREPARATION AND TRAINING
Please ensure you are well hydrated prior to taking on the run and that you have a sufficient level of fitness to be capable of finishing the event in a safe manner.
PETS AND IPODS
No pets are allowed.
Ipods are allowed, however please play at a volume that does not disturb other runners and a volume you are able to hear course marshals instructions